IHOP Kicks Off 2020 With Miracle Balloons for Kids!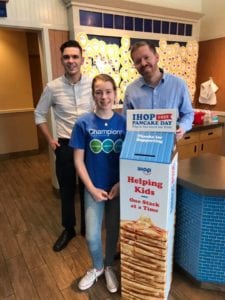 IHOP is flipping it forward for kids by selling miracle balloons in all Greater Cincinnati locations for their Annual Children's Miracle Network Hospitals Campaign. You can purchase a miracle balloon for $1 or $5 donation and sign your name to it, all in support of kids at Cincinnati Children's. With every $5 donation, guests will receive a $5 coupon good for a future purchase of $10 or more. Miracle balloon sales will run through Tuesday, February 25 which is IHOP National Pancake Day, where guests can celebrate with a free short stack of buttermilk pancakes! In addition to a free short stack of pancakes, guests who visit on February 25, 2020 will have the chance to win free pancakes for life and other fabulous prizes.
In 2019, IHOP, its franchisees and guests raised $4 million for charity partners. 100% of the money raised during IHOP's miracle balloon campaign stays local and goes directly to ensure Cincinnati Children's will continue to provide the highest quality of care for children in Greater Cincinnati. In 2019 local IHOP restaurants raised over $22,000!